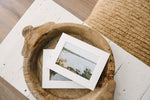 Just last week we launched our Christmas gifting offer to help you tick off the list for travel-lovers. Now we're expanding our list to include a range of thoughtful and practical gifts for the wanderer in your life. These are items we've used countlessly on our travels or stylish pieces that inspire travel in the home. 
Reading Material
Books and magazines are a great source of inspiration for future travels. For reading material that will create an escape at home, look for books that have a focus on interiors too. 


Towels
Beach (and sometimes bath) towels are a must on holidays and a nice comfort from home rather than relying on hotel supplies. Turkish towels, linen and textured styles lend themselves to a stylish escape. 


Hats
An essential to keeping sun safe, hats have, in the past, been a bit of a packing nightmare. Current trends though see bucket hats and soft raffia styles come into play, which pack flat much easier. 


Wall Art
It's no surprise that this is our favourite way to create an escape at home! Compact prints like our memento range don't require framing (so you won't be burdening the recipient with that task) and they brighten up even the smallest of spaces. Photographic prints also serve as great souvenirs from travels past. 


Bags and Cases
Give someone a practical case and you will make packing for their next trip a breeze. I particularly like pouches for small items (like charging cables) and this jewellery case below that avoids expensive tangles. 


Trinket Boxes
Travelers are always collecting along the way, think ticket stubs, shells and coins that seemed to be scattered everywhere. Trinket boxes are a great way to neatly store souvenirs that would otherwise clutter the home. 


Creams and Serums
Air travel in particular can wreak havoc on skin, making you look and feel tired. Face masks, hand creams and indulgent serums are a great way to splurge on someone who will thank you for many trips to come. 


Bottles
Another key to surviving long haul flights and outdoor adventures is hydration. Reusable water bottles comes in many options to suit every kind of traveller, including pop-up straws, insulated stainless steel or stylish glass.


Jewellery
Jewellery is often gifted to mark significant occasions and current trends see travel influencing this tradition. Designs featuring Roman coins, shells and pearls all reference faraway places and lend themselves to bohemian style.
'Near the Beach' book from Real Living | Luxe bath towel from The Beach People | Raffia Cruiser hat from Lack of Color | Summer Fridays jet lag mask from Mecca | Beaded trinket box from Hello Trader | Double coin necklace from Reliquia | Duffle bag and insulated bottle from Lululemon | Soma glass bottle from Myer |  Byron Blues memento print from Kiah Studio | Jewellery travel case from Mejuri 
To mark our first festive season at Kiah Studio we are offering buy 1, get 1 free on our memento prints! This offer is valid until our Christmas postage cut-off on December 15th. If you'd like more suggestions for items to style with our travel prints please leave a comment below. 
We wish you a safe and happy holiday season,

Jess